Klub Delfinki od wielu lat zapewnia najmłodszym wakacje pełne frajdy w Grecji. Dni tematyczne, olimpiady, zabawy w wodzie z elementami nauki pływania i kultowe już mini disco to wspomnienia, które zostają z dziećmi na długie lata. Wszystkie wakacyjne zabawy wywołują ich ogromną radość. Za uśmiechami najmłodszych kryją się ludzie – pełni pasji i sympatii do naszych maluszków. To animatorzy. Co zmotywowało ich do podjęcia tej pracy, jak organizują czas najmłodszym oraz co daje im ta praca – zapytała Joanna Kaszczyńska – Animation Manager w Grecosie.
Joanna Kaszczyńska: Co skłoniło Cię do podjęcia pracy jako animator Klubu Delfinki w Grecosie?
Agata Nowak: Szukałam ciekawego zajęcia na wakacje. Chciałam spędzić ten czas w wyjątkowy sposób, połączyć podróże z interesującą pracą. A jako że lubię dzieci (dzięki nim nigdy się nie nudzę, a każda chwila jest wyjątkowa), to stwierdziłam, że połączenie tych dwóch pasji będzie dla mnie idealnym rozwiązaniem.
Filip Lewandowski: Bardzo lubię pracować z dziećmi i aktywnie spędzać czas. Dzięki tej pracy uczę się cierpliwości, kreatywnego podejścia do różnych wyzwań, a przede wszystkim uśmiechu.
Patrycja Wełnińska: Gdy otrzymałam tę ofertę, od razu zdecydowałam się ją przyjąć. To coś dla mnie, bo lubię dzieci, pracę z nimi w wodzie, a jako animatorka-instruktorka pływania w Grecosie codziennie prowadzę zajęcia w basenie.
Joanna: Jak wyglądają zajęcia w Klubie Delfinki?
Agata: Prowadzimy dni tematyczne, np. Bajkowy, Pirata, Grecki. Staramy się pokazać dzieciom kulturę Grecji, korzystając z uroków, które daje nam ten kraj – z plaży, pięknej pogody, z basenów. Poznajemy też dzieci z innych krajów. W Klubie Delfinki każdy dzień jest inny, bawimy się na różne sposoby.
Filip: Zajęcia w Klubie mamy codziennie w godzinach porannych i popołudniowych – od 10:00 do 12:30 oraz od 15:00 do 17:00. Każdy dzień w Klubie Delfinki jest dniem tematycznym. Mamy np. Dzień Pirata, w którym poszukujemy z dziećmi skarbów. W Dniu Master Chefa idziemy do restauracji i przygotowujemy przepyszną pizzę. Podczas Dnia Talentów rozwijamy swoje artystyczne zacięcie na scenie – wspólnie przygotowujemy show, które wieczorem prezentujemy nie tylko dzieciom, ale również dorosłym.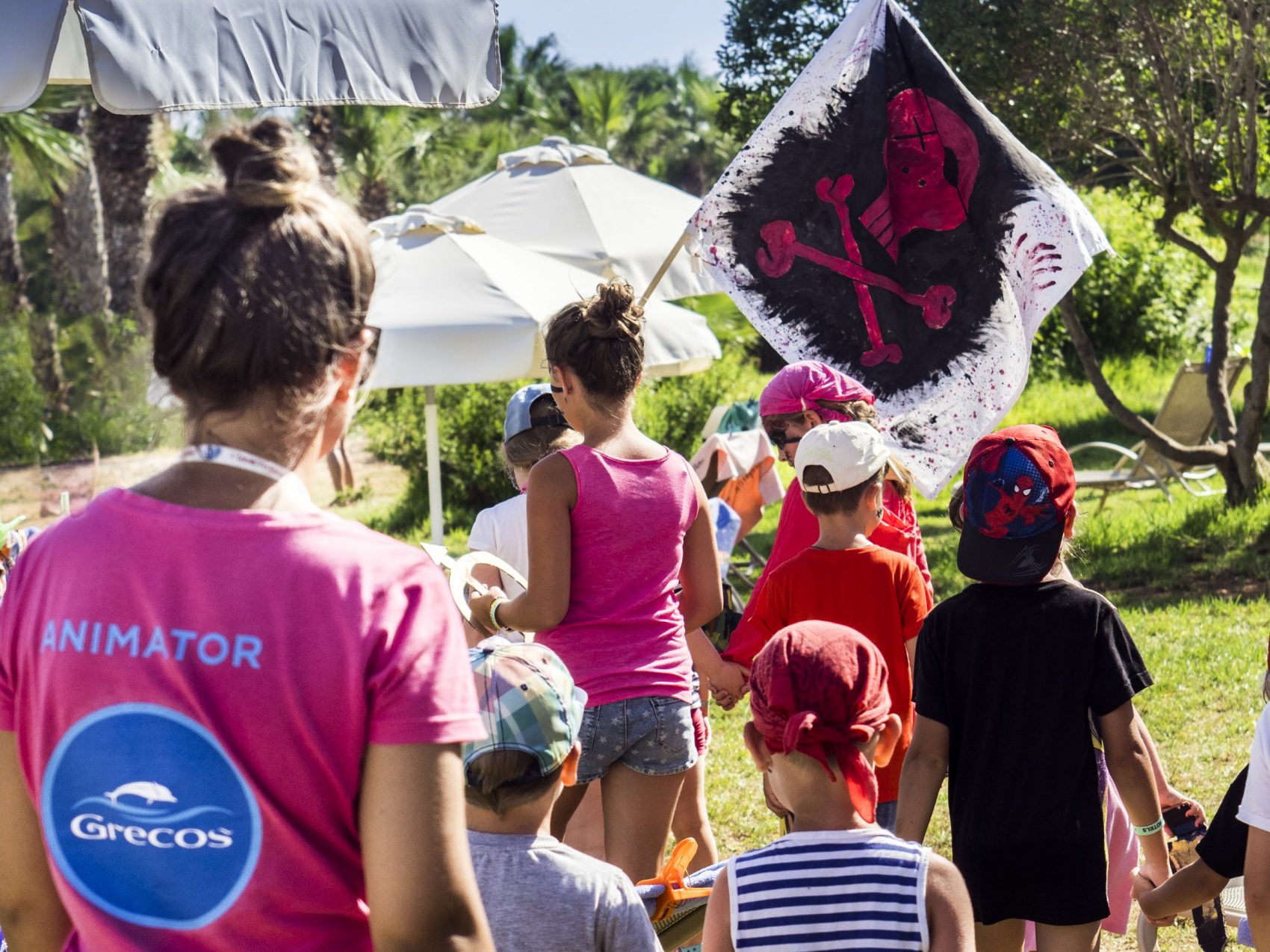 Joanna: A jak wyglądają zajęcia w wodzie z instruktorem pływania w ramach Klubu Delfinki?
Patrycja: Codziennie o 10:00 zbieramy się w miniklubie i dzielimy grupę na "pływających" i "niepływających". Nie ma więc obaw, że dziecko, które dopiero oswaja się z wodą, trafi do grupy umiejących pływać. Staramy się też dodatkowo dzielić dzieci pod względem wieku, aby dziesięciolatek nie trafił do grupy z trzylatkami, mimo że też nie potrafi pływać.
Nasze zajęcia to nie stricte nauka pływania, bo polegają na łączeniu zabawy z nauką. Najbardziej zależy nam, żeby dzieci były uśmiechnięte i dobrze się bawiły, a "efektem ubocznym" jest przyswojenie stylów pływania: żabki, kraula, delfina. Dzieci mogą nawet nie mieć świadomości, że wykonując różne ćwiczenia uczą się pływać danym stylem.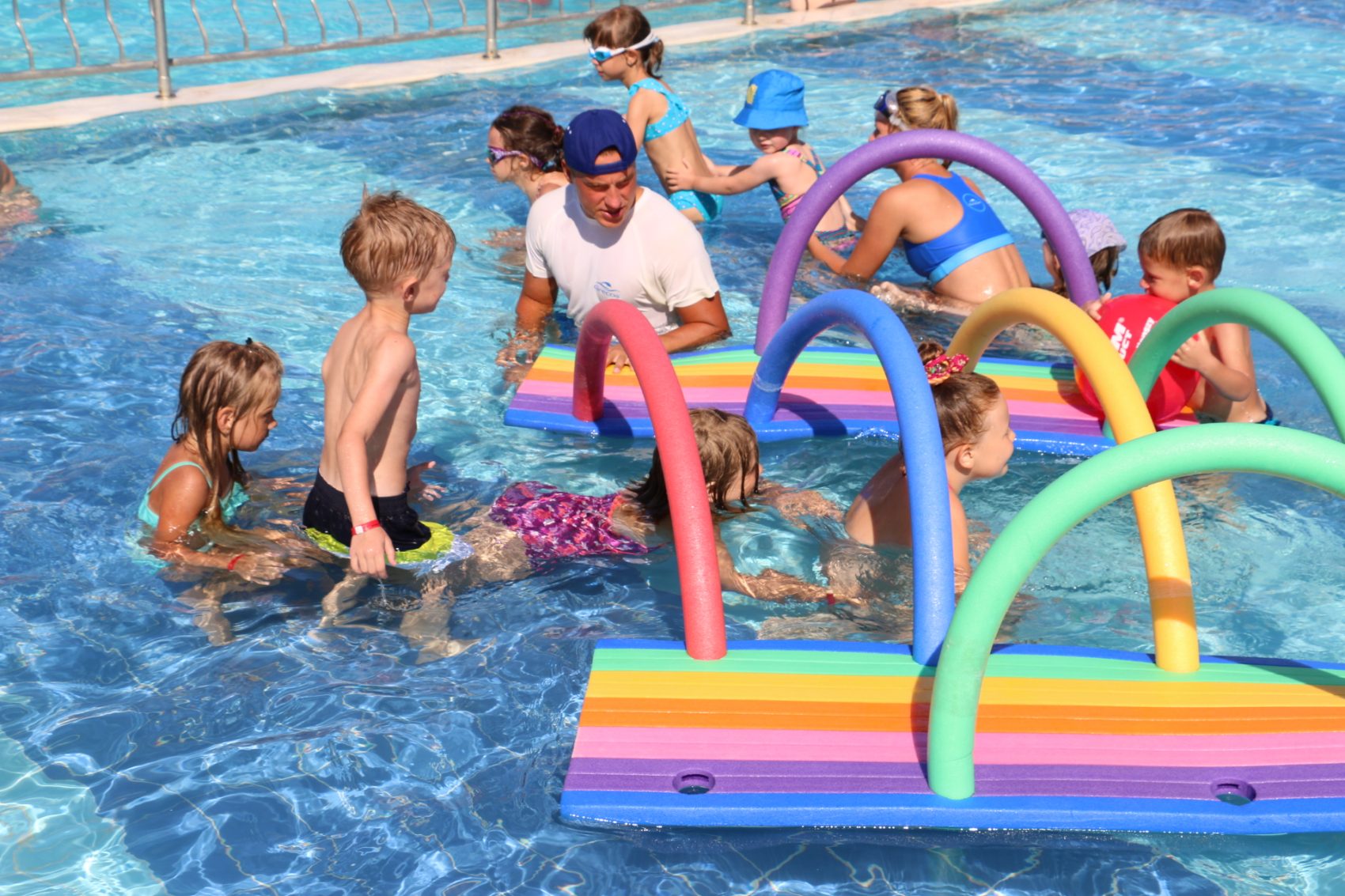 Joanna: Czy rzeczywiście po kilku dniach nauki można zaobserwować postępy w nauce? 
Patrycja: Miałam już kilkoro dzieci na zajęciach, które na początku nie potrafiły i nie chciały nawet zamoczyć głowy w wodzie. Po kilku dniach w basenie przełamały się – nie dość, że zanurzyły głowę pod wodę, to jeszcze zjeżdżały na zjeżdżalni. Dlatego uważam, że nasze zajęcia bardzo rozwijają. A kiedy dziecko ma duży problem z wodą, to poświęcam mu więcej czasu, chodząc z nim we dwójkę na basen, żeby taki maluch wyniósł jak najwięcej z naszych zajęć.
Joanna: Jaka jest frekwencja na zajęciach w wodzie?
Patrycja: Najważniejsze jest bezpieczeństwo dzieci, dlatego do grupy "pływającej" przyjmuję maksymalnie ośmioro dzieci, natomiast do początkującej około pięcioro.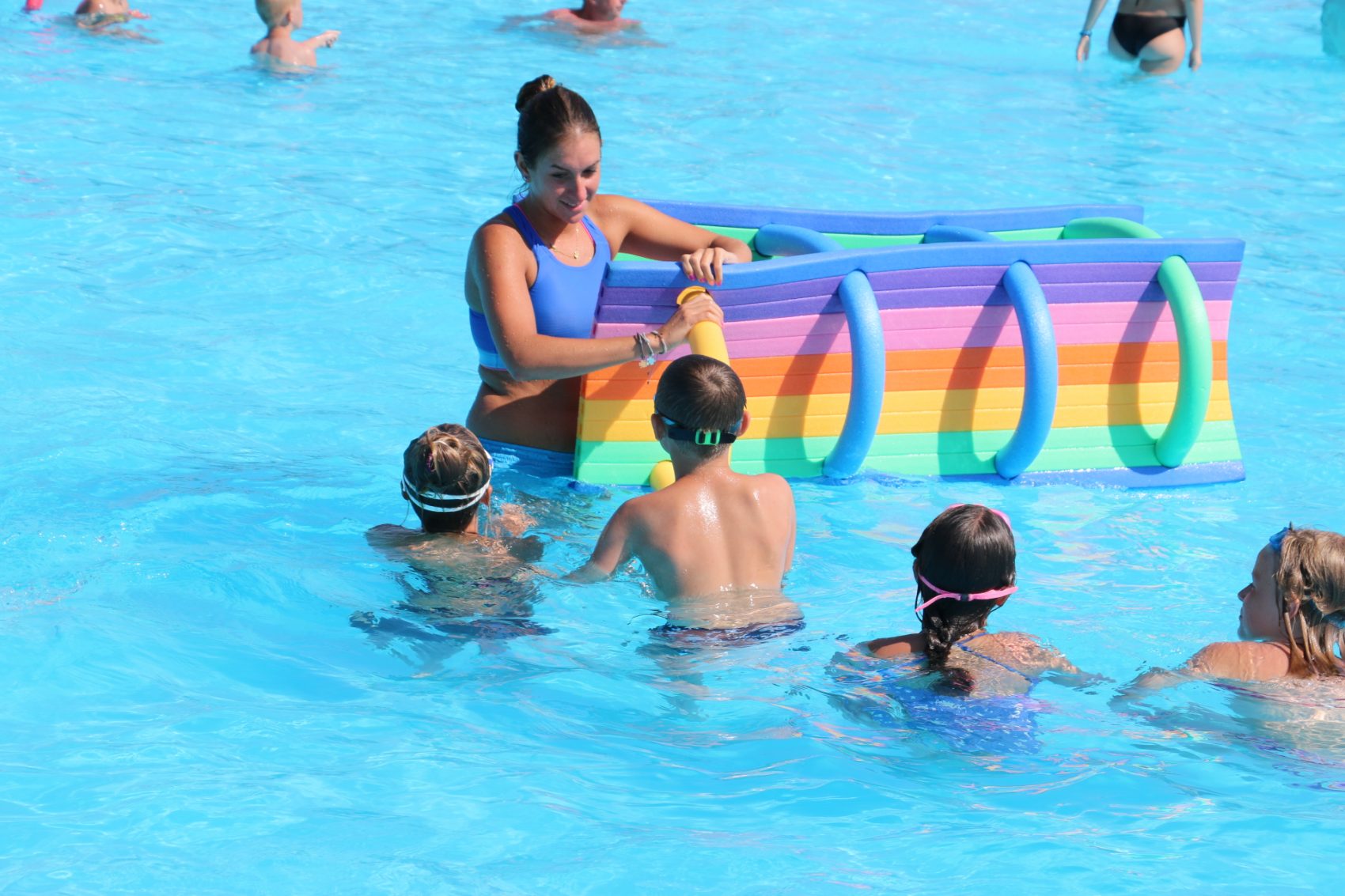 Joanna: Które zajęcia najbardziej podobają się maluchom?
Patrycja: Dzieci bardzo lubią łowić najróżniejsze przedmioty z wody. Mamy specjalne pałeczki, które wrzucamy do basenu, a dzieci po nie nurkują, a następnie liczą swoje zdobycze. Hitem są też makarony połączone z materacem – przepływamy pod nimi lub wdrapujemy się na taką konstrukcję, którą wcześniej sami tworzymy.
Agata: Myślę, że u nas największym powodzeniem cieszy się Dzień Międzynarodowy, kiedy to robimy flagi państw, z których pochodzą obecne na zajęciach dzieci. Po pierwsze, dzięki temu maluchy się uczą. Po drugie, uwielbiają zajęcia plastyczne – wycinanie, kolorowanie, klejenie. A największa frajda jest, kiedy idziemy wszyscy razem nad basen i pytamy wszystkich gości po angielsku, skąd pochodzą. Każdej osobie przy basenie dajemy flagę państwa, z którego pochodzi. Wspaniale widzieć uśmiechy gości. Ta zabawa daje satysfakcję obu stronom.
Filip: U nas zdecydowanym liderem jest Master Chef. Ale uwielbiają też wszystkie zabawy na zewnątrz. W Dniu Olimpijskim organizujemy przeróżne zawody i gry przy mini-basenie. Wychodzimy z dziećmi do ogrodu, gdzie bawimy się w "ogonki", "murarza" i inne kreatywne zabawy.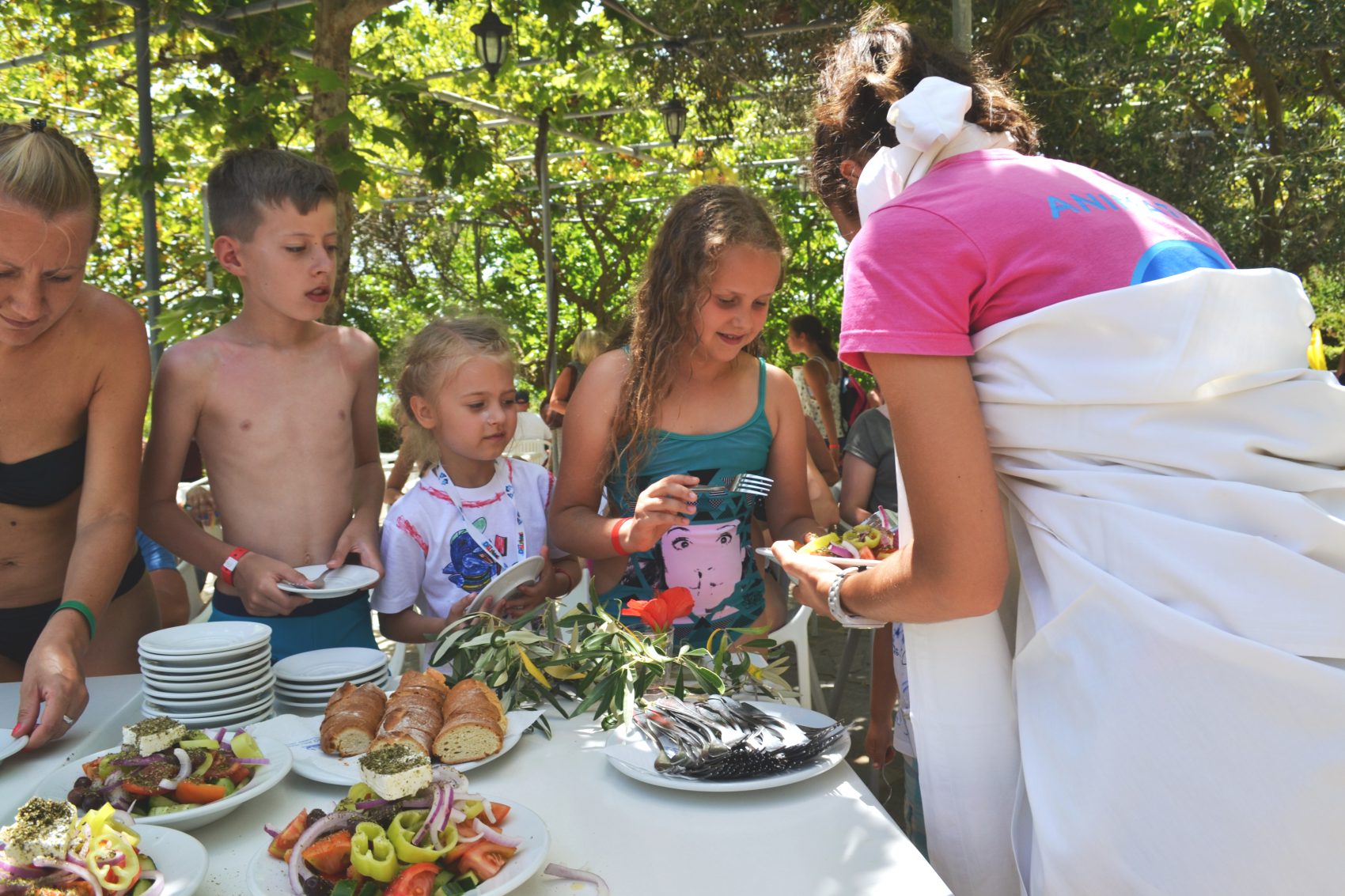 Joanna: Jak wprowadzacie dzieci w grecki świat?
Filip: Oczywiście poprzez zabawę! Dzieci bardzo lubią, mówiąc kolokwialnie, wygłupiać się, a do tego malować, rysować. Aby wprowadzić dzieci w grecki świat, malujemy flagi greckie, gdzie się tylko da – na rękach, na nogach, na głowie, na prześcieradle. Oprócz tego przygotowujemy przepyszne souvlaki z owoców, którymi następnie częstujemy gości hotelowych. Tańczymy też sirtaki i uczymy dzieci podstawowych greckich słów, jak kalimera, efcharisto, kalispera.
Joanna: A czego Wy sami uczycie się poprzez tę pracę?
Filip: Cierpliwości i kreatywnego podejścia do różnych spraw.
Patrycja: Spokoju i cierpliwości. W tej pracy trzeba mieć jej dużo, szczególnie podczas zajęć z maluszkami. Trzeba też mieć oczy dookoła głowy i poświęcać uwagę każdemu dziecku, zwłaszcza w basenie, kiedy mamy pod opieką sporą grupę maluchów.
Agata: Praca jako animator daje mi masę satysfakcji. Dzieciom wcale nie trzeba dać dużo od siebie, a otrzymuje się od nich mnóstwo pozytywnej energii. One nas uwielbiają. To jest niesamowite, że podczas tygodniowego pobytu dziecko jest w stanie tak się przyzwyczaić do drugiej osoby, darzyć ją takim uczuciem, sympatią!
Patrycja: Dzieci są bardzo szczęśliwe i zadowolone z życia i tego najbardziej powinniśmy się od nich uczyć!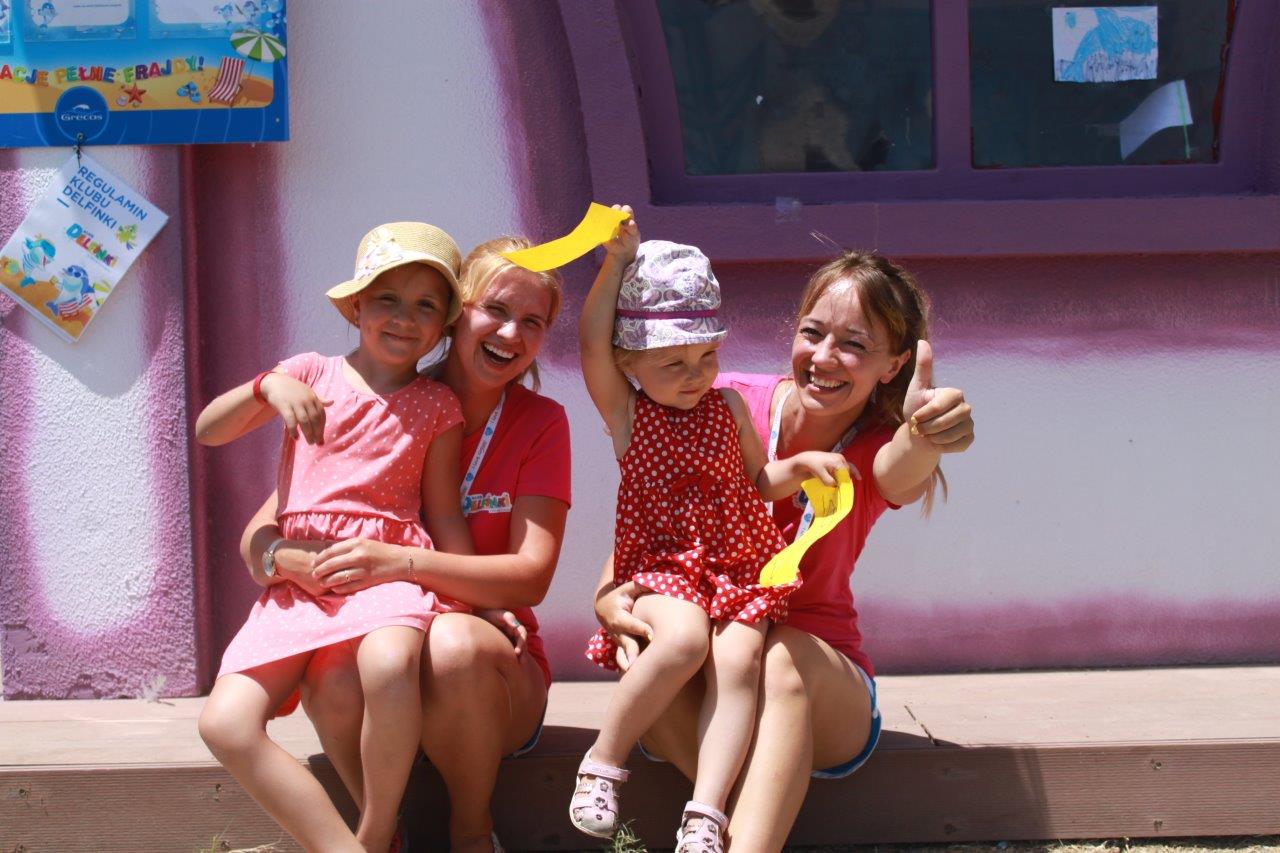 Poznaj bohaterów wywiadu: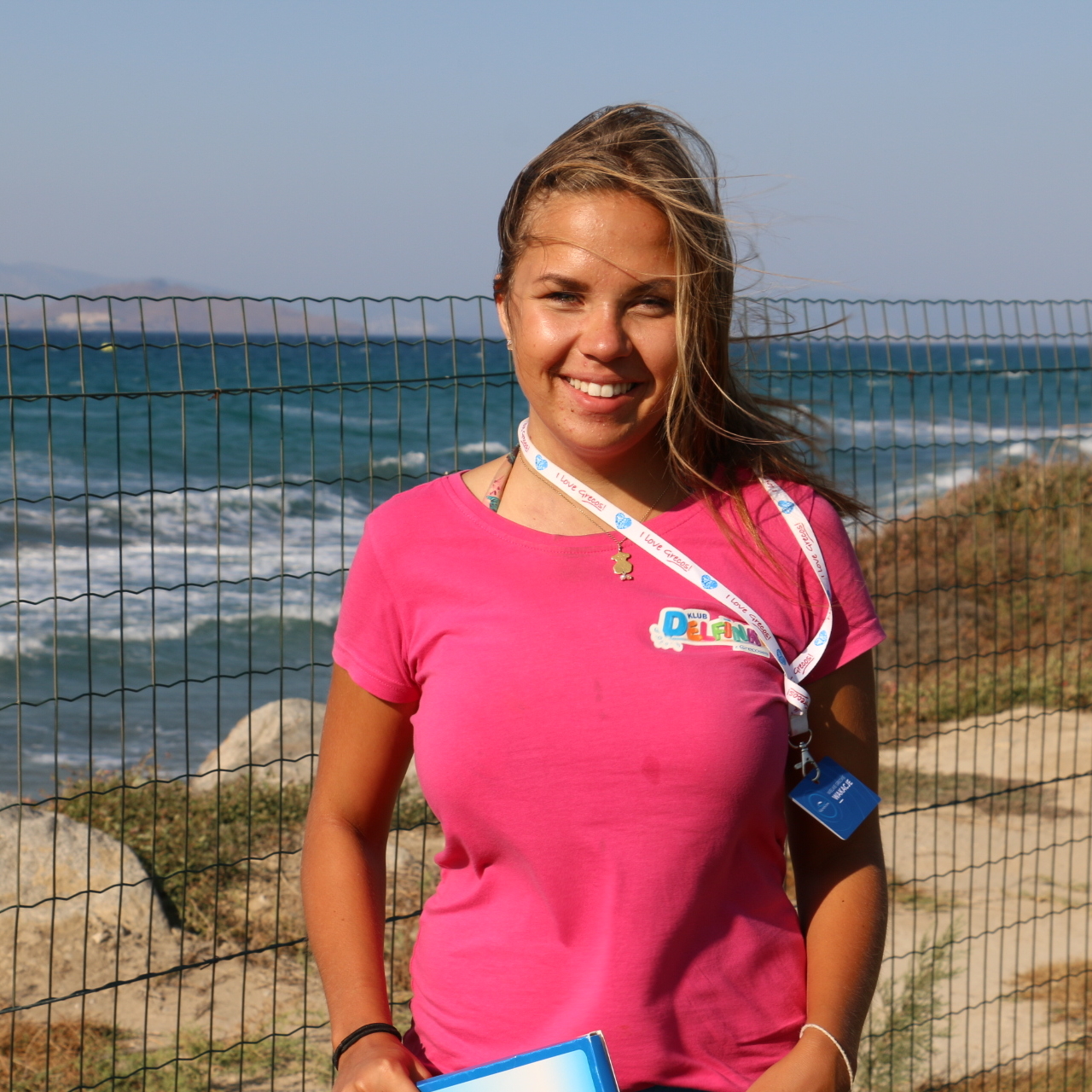 Agata Nowak
Animatorka w Klubie Delfinki
Studentka Stosunków Międzynarodowych na Uniwersytecie im. Adama Mickiewicza. W sezonie 2017 animatorka Klubu Delfinki w hotelu Labranda Marine Aquapark Resort na Kosie. Wcześniej przez wiele lat wolontariuszka w świetlicach szkolnych, gdzie organizowała czas wolny dzieciom i młodzieży. Jej największą pasją są podróże.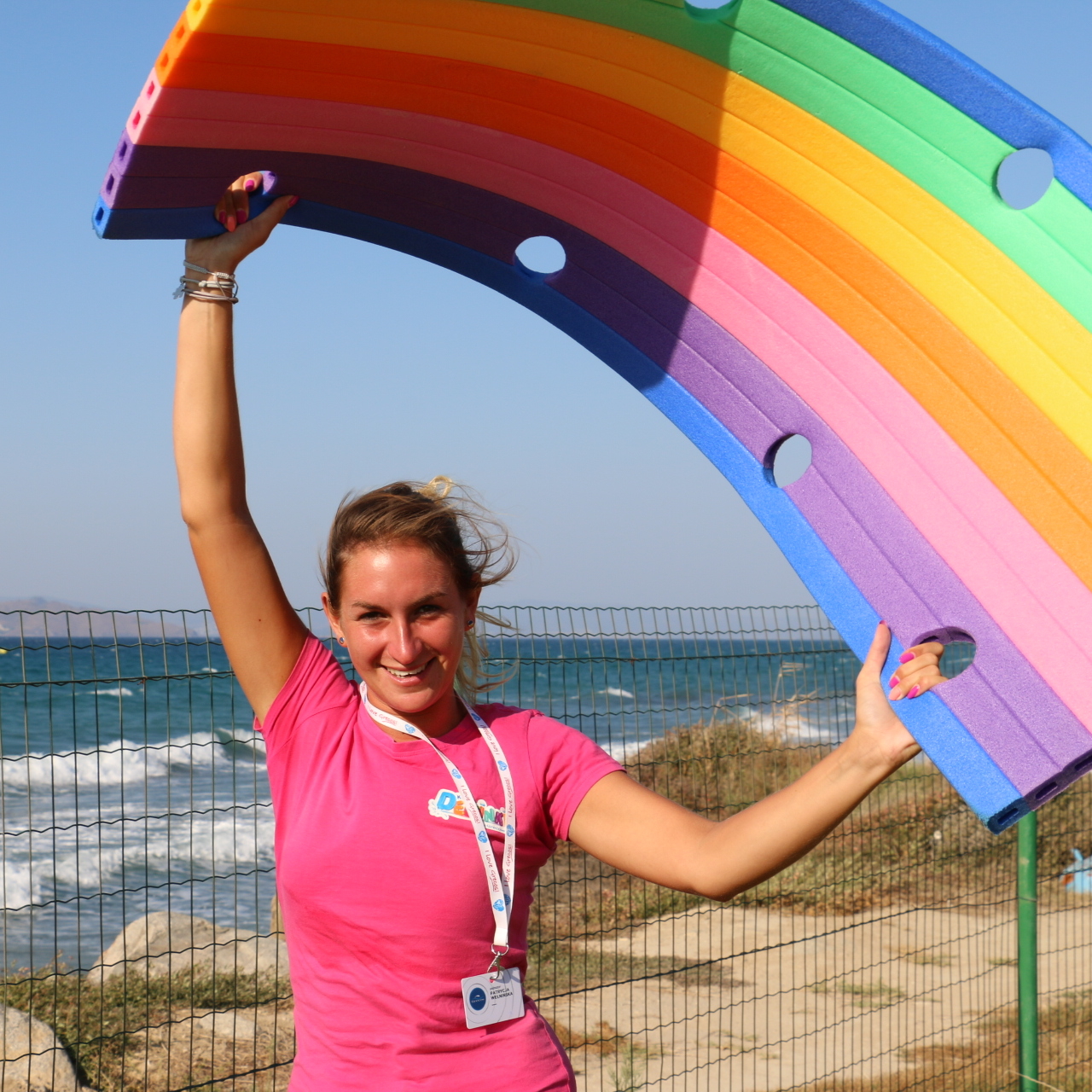 Patrycja Wełnińska
Animatorka-instruktorka pływania w Klubie Delfinki
Absolwentka Uniwersytetu Kazimierza Wielkiego w Bydgoszczy na kierunku Wychowanie Fizyczne. W sezonie 2017 instruktorka pływania w Klubie Delfinki w hotelu Labranda Marine Aquapark Resort na Kosie. Jej największą pasją jest sport, trenuje wioślarstwo.
Filip Lewandowski
Animator w Klubie Delfinki
Absolwent Uniwersytetu Ekonomicznego w Poznaniu, student Akademii Muzycznej. W sezonie 2017 animator w hotelu Mitsis Norida Beach na Kosie. Poza sezonem doświadczony animator na różnego rodzaju eventach dla dzieci – balikach, festynach, urodzinach. Aktor, wokalista, gra na gitarze akustycznej i fortepianie.
Zobacz, jak wygląda praca animatora w praktyce!