Druga część naszego wakacyjnego poradnika greckich stylizacji przenosi nas w świat niemal nie z tej ziemi. Każde z poniższych miejsc zabierze Cię na wyprawę w głąb siebie. Tam odkryjesz, co to znaczy prawdziwy relaks, sztuka życia w harmonii z otoczeniem. Twój strój musi być tak w zgodzie z Tobą, jak i pięknem, które Cię otacza.
Chcesz się tam przenieść, poznać te kolory, zapachy, smaki? Weź udział w konkursie, do którego zapraszamy razem z Gomez. Sprawdź szczegóły i spiesz się, bo konkurs trwa tylko do 11 sierpnia!
Zainspiruj się naszymi propozycjami…
Niespieszna podróż marzeń na Krecie Zachodniej
Grecy są narodem, który umie czerpać radość z najdrobniejszych rzeczy, dostrzec szczęście w promieniu słońca, szumie morza, uśmiechu przechodnia. Ich pogodna natura zaraża odwiedzających ich kraj turystów, którzy uczą się od nich filozofii siga, siga (spokojnie, powoli). Aby poczuć tę atmosferę musisz przede wszystkim zwolnić. Wybierz się na spokojny spacer po malowniczym miasteczku Rethymno, zgub w jego uliczkach, przysiądź w porcie i rozkoszuj dobiegającym z tawern radosnym gwarem. Ubierz się tak, aby poczuć się w pełni sobą i aby podobać się sobie. Na Krecie Zachodniej nie ma bowiem miejsca na negatywne emocje, wszystko doskonale tu ze sobą harmonizuje. Poczuj to na własnej skórze!
Relaks w filmowej scenerii na Skiathos
Czy może być bardziej  urokliwa wyspa niż ta, którą wybrali jako scenerię do światowego hitu producenci filmu "Mamma Mia!"? Tutaj możesz być, kim chcesz – szaloną nastolatką mimo zmarszczek pokrywających twarz, gwiazdą filmową, za którą nie sposób się nie obejrzeć, rybakiem, który przysiadł w porcie, aby odpocząć po długim połowie ośmiornic i krabów. Proponujemy Ci tylko jedną stylizację, ale takie miejsce jak Skiathos każdemu zostawia wolną rękę. Odwiedzając miejsca, które upodobali sobie bohaterowie kultowego filmu, wczuj się w klimat rodem z "Mamma Mia!" i pozwól sobie na relaks w filmowej scenerii. Nie zapomnij odwiedzić pobliskiego Skopelos, które w filmie również odegrało dużą rolę.
Wszechobecna zieleń i lazur na Kefalonii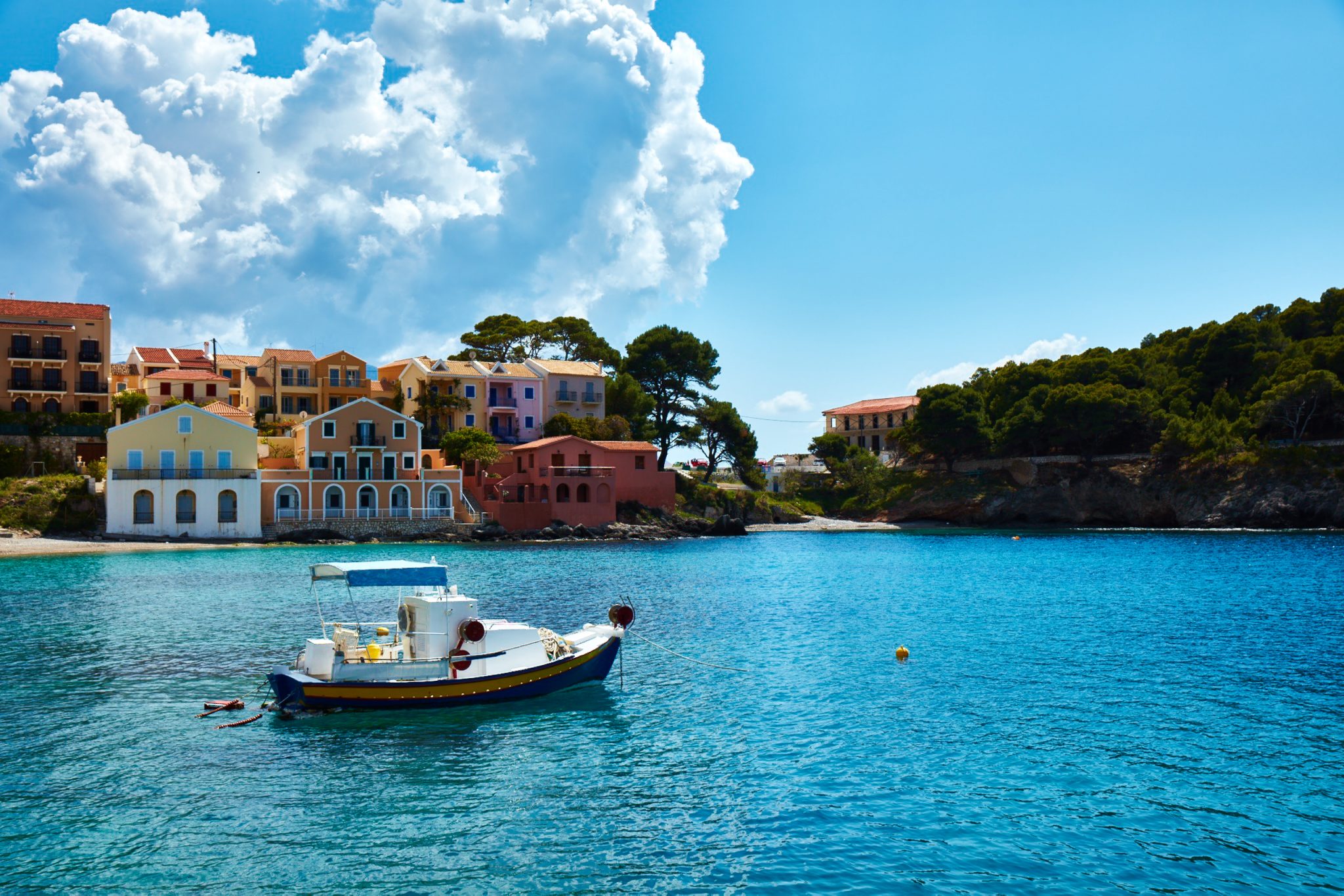 Kefalonia to wyspa magiczna. Jej kolory wprowadzają w stan błogiego relaksu, z którego trudno się wybudzić. Przenikające się zieleń i lazur działają kojąco na zmysły. Zamknij oczy i wsłuchaj się w szum fal, ale otwórz je za chwilę – nie chcesz przecież przegapić jednego z momentów, kiedy słońce zmienia swoje położenie chyląc się ku zachodowi? Na Kefalonii nie będziesz chciała przegapić żadnej chwili. Zapragniesz chłonąć tę wyjątkową wyspę wszystkimi zmysłami. Nie próbuj się tu wyróżniać, po prostu dostosuj swój nastrój i wygląd do otoczenia. Zmień się cała w błękit!