Na Kos jest kilka zamków, a właściwie ich ruin m. in. Ruiny zamku w Kefalos, Antymachia – monumentalna twierdza joannitów, czy Palio Pyli – ruiny twierdzy bizantyjskiej oraz wioski opuszczonej w wyniku epidemii cholery. My zdecydowałyśmy się na tę trzecią opcję ze względu na las. Słońce co prawda o tej porze dnia już nie grzało tak mocno, ale i tak przyjemnie było schronić się choć przez chwilę w lesie piniowym porastającym wzgórze, na którym stoją ruiny Palio Pyli. Sama twierdza zrobiła na nas duże wrażenie. Nie spodziewałam się tak dużego terenu pełnego rozmaitej roślinności, a także pięknej panoramy na północne wybrzeże wyspy. Do twierdzy prowadzą liczne kamienne schody, już trochę wyślizgane w wyniku chodzenia, dlatego udając się tam warto zabrać buty z antypoślizgową podeszwą. Podobnie jak w Place w powietrzu unosi się zapach olejków eterycznych.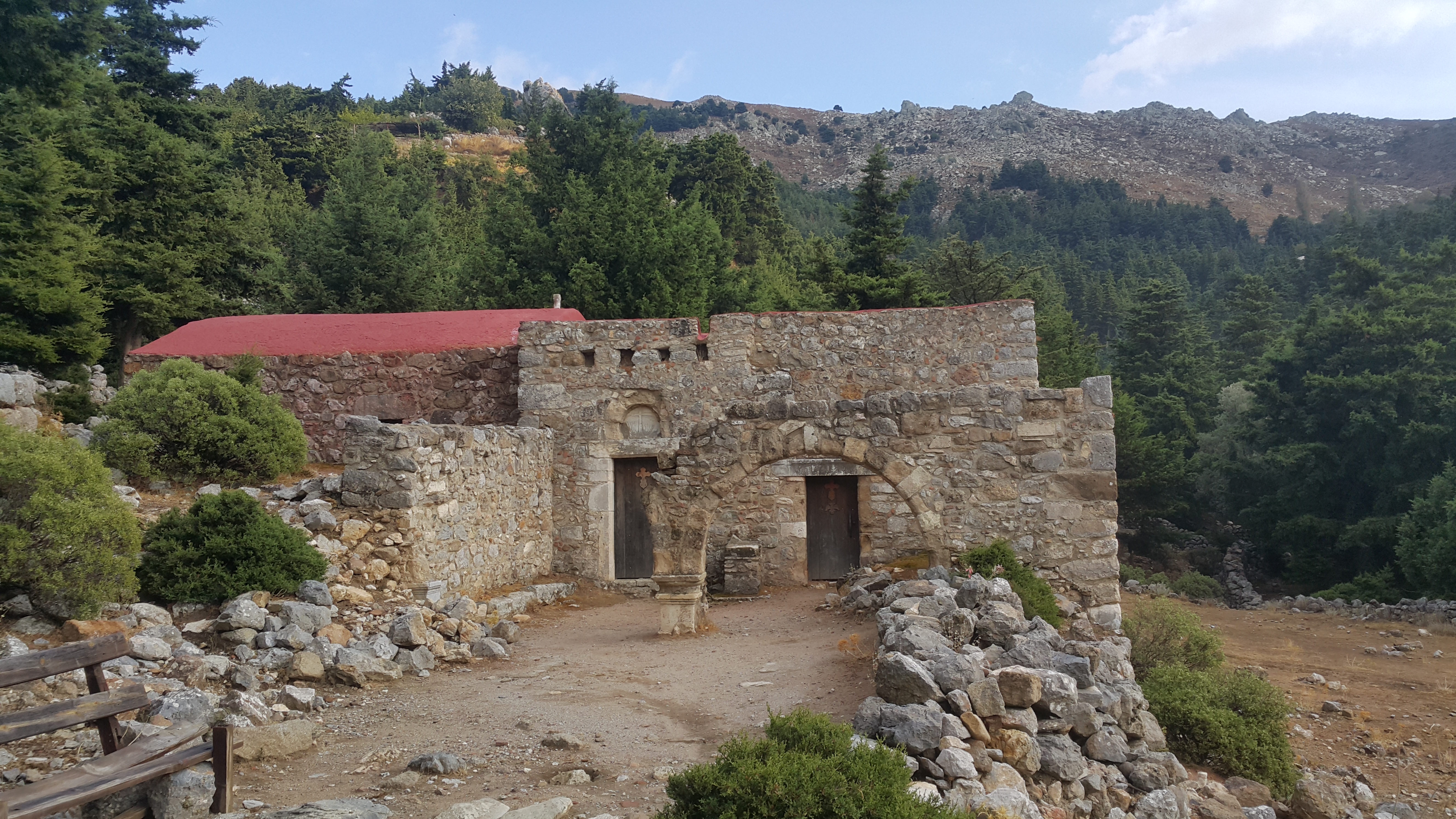 Ostatnią atrakcją, jaką zaplanowałyśmy na ten dzień była wioska Zia zlokalizowana na zboczu góry Dikeos. Zia słynie z pięknych zachodów słońca – ludzie ustawiają się na zakręcie drogi przy murku i podziwiają, jak znika za horyzontem. Wioska znana jest również z tawern i małego targu z lokalnymi pamiątkami, każdy z budynków pomalowany jest na biało z niebieskimi akcentami. Wioska prezentuje się pęknie zarówno przed jak i po zachodzie słońca. Zostałyśmy jeszcze po zmroku, aby na miejscu zjeść kolację. Ponownie grecka kuchnia nas nie zawiodła, a do hotelu wracałyśmy w bardzo dobrych humorach. W końcu człowiek najedzony, to człowiek zadowolony.
Podczas urlopu jeszcze raz wybrałyśmy się do term Embros, ale tym razem w okolicach zachodu słońca. Samego słońca z tej części wyspy nie widać, ale niebo i tak zabarwione było na piękny pomarańcz a z czasem na fiolet i granat. Wieczorem w termach było kilkanaście osób w tym rodzina z dziećmi, które ochoczo pluskały się w gorącej wodzie. Zaskoczeniem był dla mnie pan, który leżał najbliżej wylotu wody ze zbocza, gdzie woda jest naprawdę gorąca, myślę, że herbata mogłaby się zaparzyć. Ja nie byłam w stanie ustać w tym miejscu 10 sekund, a on trwał w bezruchu. To chyba lokalny Grek, który przyjeżdża tu bardzo często, inaczej nie jestem sobie wstanie wytłumaczyć takiej wytrzymałości termicznej.
Moim zdaniem będąc na Kos warto wybrać się na którąś z sąsiednich wysp, aby jednocześnie przeżyć rejs po morzu oraz zwiedzić dodatkową wyspę. Naszym celem stało się wulkaniczne Nissiros. Łódź na wyspę wypływa z portu w Kardamenie. Rejs trwa około godziny i sam w sobie jest ciekawym przeżyciem, szczególnie kiedy usiądzie się na dziobie, który zalewają fale i woda niesiona wiatrem. Po drodze mija się mniejsze wyspy, a z jednej z nich do całej Europy sprowadzane były w dawnych czasach kamienie młyńskie na żarna.
Sama wyspa jest niewielka, nie ma źródeł słodkiej wody, którą mieszkańcy muszą odsalać. Widokowo zbliżona jest do Santorini – w portowej miejscowości Mandraki oraz drugiej co do wielkości Nikia pełno jest biało-niebieskich domków, sporo ślicznych kapliczek, do których prowadzą wąskie, ozdobione kwiatami uliczki. W Nikii urzekają widoki – z jednej strony na kalderę wulkanu Stefanos, a z drugiej na granatowe morze ozłocone promieniami słońca.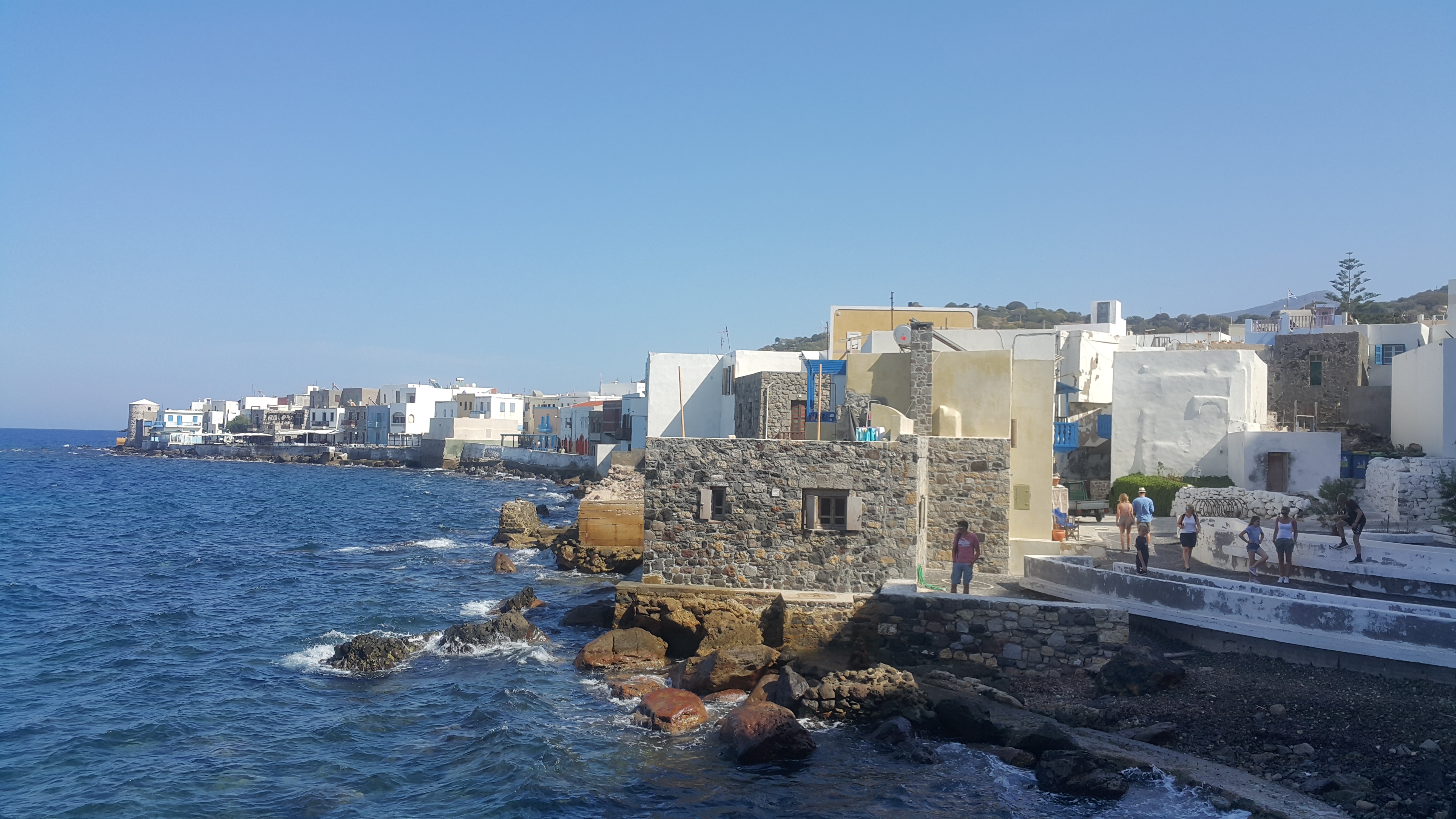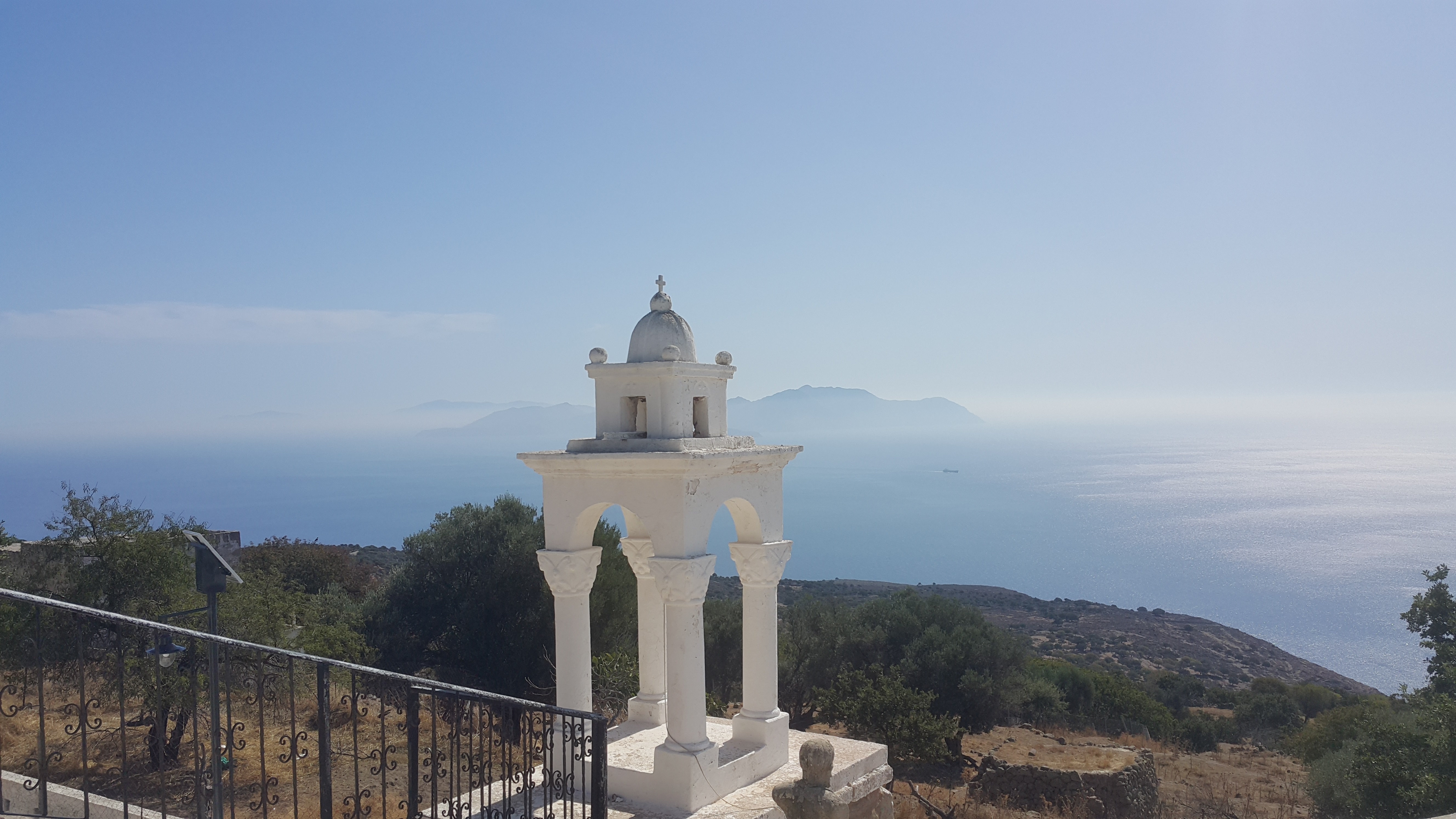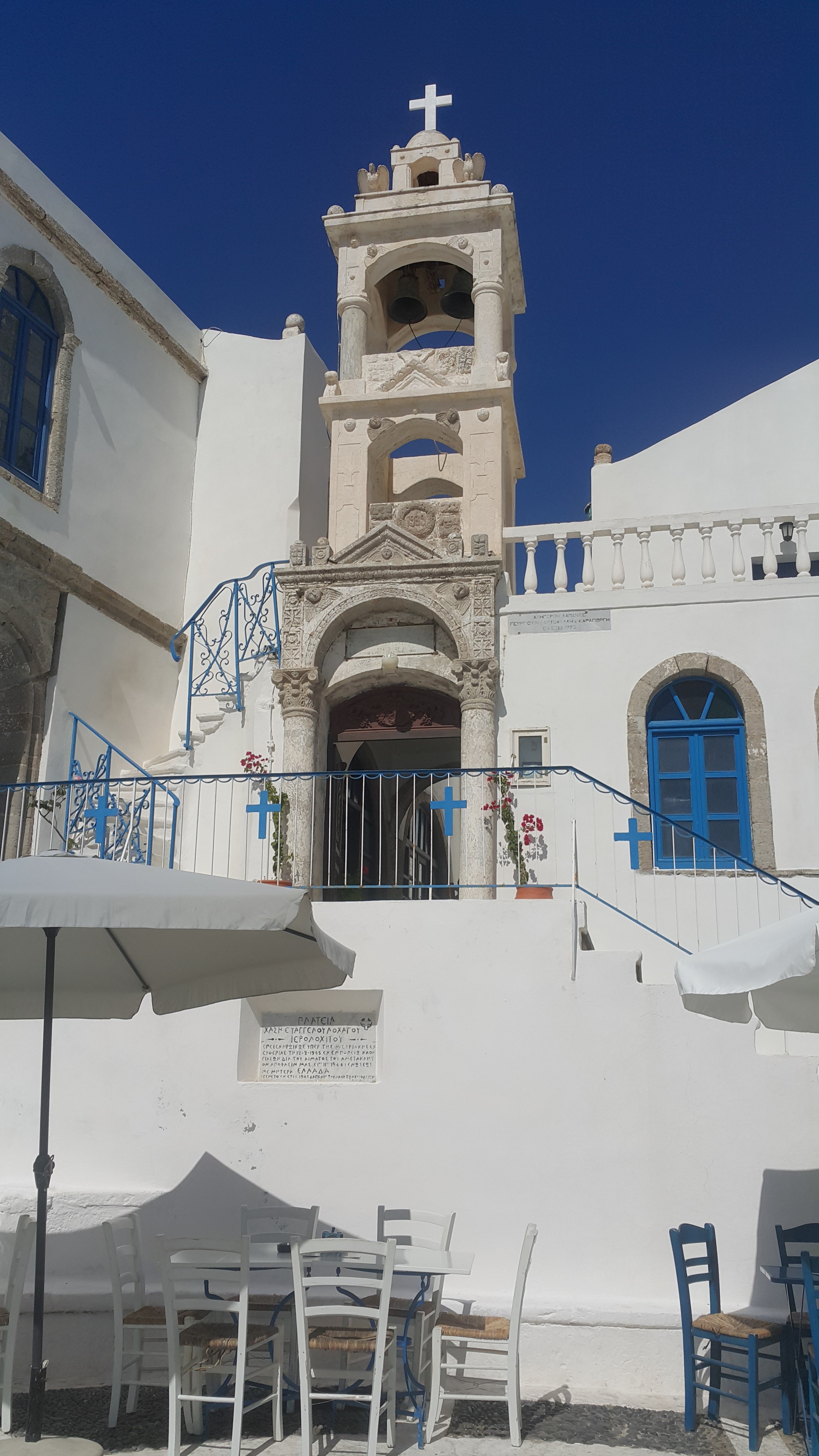 Wyspa jest górzysta, autokarem wjeżdża się na szczyt wulkanu, a po drodze atrakcję stanowi sam wjazd wąskimi drogami nad przepaścią. Greccy kierowcy autokarów są moim zdaniem jednymi z najlepszych na świecie. Ogromnym autokarem zmieszczą się na milimetry tam, gdzie każdy inny stwierdziłby, że się nie da. Krater wulkaniczny to atrakcja dla osób, którym nie przeszkadza żar lejący się z nieba i zapach siarki. W kraterze nie wieje wiatr, więc warunki są dość trudne, a bez ochrony głowy i butelki wody nie ma po co schodzić na dół. Dla mniej odpornych pozostaje taras widokowy. Wyjazd na Nissiros zajmuje właściwie cały dzień. Na miejscu miałyśmy czas, aby pospacerować po kraterze, przejść się po Niki i zjeść obiad w Mandraki.
Pozostałe dni upłynęły nam na odpoczynku w hotelu i spacerach do miasta Kos, oraz w okolicy hotelu.
To był mój 3 pobyt na Kos i na pewno jeszcze tam wrócę. Wyspa ma wiele do zaoferowania zarówno dla plażowiczów jak i tych, którzy lubią zwiedzać. Dodatkowo widać, że życie naprawdę toczy się tam w rytmie siga-siga i można poczuć smak prawdziwej Grecji. Biznesowi turystycznemu towarzyszy rolnictwo, rybołówstwo, będąc w mieście Kos o tej porze roku widzimy też dzieci idące do lub ze szkoły, życie toczy się zupełne jak gdzie indziej, a jednak po grecku.
Do Polski wracałyśmy zadowolone, z głowami pełnymi wspomnień. To był świetny pomysł, aby nie żegnać się z latem i lecieć jesienią na Kos!